Quality OEM Ford Parts in Salem, OH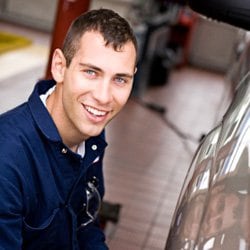 At Donnell Ford of Salem, we make sure to offer the best Ford products and service around. One way we achieve this is by making sure to use quality Ford Original Equipment Manufacturer parts. Unlike "one size fits all" third-party parts, Ford OEM parts are made for Ford vehicles in particular. With Ford OEM parts, your car will get exactly what it needs, not something that is "close enough." Ford OEM parts are also of a higher quality than third-party parts. Ford knows that its drivers deserve the best, and we at Donnell Ford of Salem agree.
Auto Service in greater Salem, OH

We know that some people prefer to do their own auto maintenance. We also know that some people don't know a carburetor from a windshield wiper. Fortunately, as long as you're looking for quality Ford parts, we can help.
Ordering Ford Parts from Donnell Ford Lincoln of Salem

There's nothing quite like working on your own car. Diagnosing the problem and finally fixing it is always satisfying, and so is looking back on your car and knowing that you fixed it yourself. You don't need to use our service center to appreciate our help, though. We make it easier than ever to get a hold of the exact Ford part you need. Our parts department is well-stocked with every Ford part you could possibly require. If for some reason we don't have it in stock, we will gladly order it for you.
Convenient Ford Service for Lisbon, Columbiana & Alliance Drivers

On the other end of the spectrum, if you don't know anything about auto repairs, we can help with that too. We'll still order any auto parts you may need, but we will install them for you as well in our service center. Just as Ford OEM parts are better for your Ford vehicle than third party parts, our Ford service center is better than third-party mechanics. Our team of skilled auto technicians have all been trained to work on Ford vehicles, and they know their way around any Ford, both inside and out.
If you're a Ford driver in Salem, Beloit, East Palestine, Columbiana, Lisbon, Leetonia, or Alliance, we're here to help in any way we can. Just give us a call at (888) 422-3813, or pay us a visit in Salem, OH. We can't wait to meet you.