Get Your Car Serviced with the Experts at Donnell Ford of Salem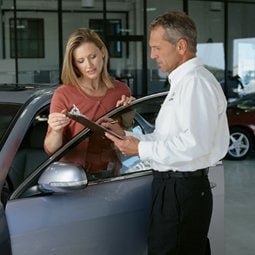 You already know routine maintenance is the key to longevity for any vehicle. From oil changes, to tire rotations, to periodic air and fluid filter replacements, there are any number of regular services you can perform for your vehicle to ensure you get the most out of your investment.
Here at Donnell Ford of Salem, our expertly trained and certified service technicians are ready to take on all of your maintenance needs. We're centrally located in Salem, easy to get to from a number of area towns, including Columbiana and East Palestine, and our professional service staff are experts on the ins and outs of auto maintenance.
In fact, our staff is your best choice for all of your Ford model's service needs, because we know Ford vehicles better than your average, neighborhood garage. We're able to diagnose and repair problems sooner, and we only use authentic Ford parts, so you know your vehicle is getting the exact parts it needs to run great.
We invite all of our customers throughout the greater Alliance and Lisbon, OH area to make their service appointments online, using our website, and see what a difference our professional service can make on your car-ownership experience. We can help you with all of your vehicle's service needs, including:
Brake inspections and repairs
Tire inspections, repairs, and replacements
Windshield wiper replacements
Manufacturer recall notices
Heat and air conditioning systems repairs
Plus, much more. Use our online appointment scheduler soon. You choose the date and time that works best for your busy schedule, then we'll do the rest.
The Donnell Ford of Salem service department is located right here in our dealership, on Continental Drive, convenient to Leetonia and Beloit. We look forward to developing a long-lasting relationship with you, and your Ford-built car, truck, or SUV.